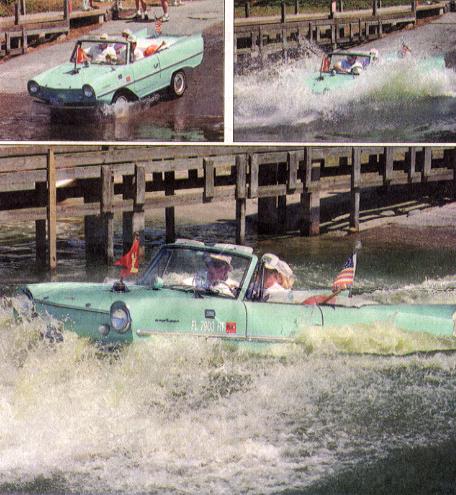 Going... Going... Victor Nelson drives a 1967 Amphicar off the boat ramp and into Lake Dora.

1948 Ford Wagon
Owners: Victor & Carol Nelson - Lake Helen, Florida (Near Daytona Beach)
1948 was the last year for All WOOD wagons and FABRIC roof covering - This entire body from the floor up and the cowl back Is wooden - jointed, doweled, screwed and glued with a few small metal gussets. The 4 doors and tailgates have NO metal frame- work. Starting In 1949, ALL wagon manufacturers used steel roofs and a steel framework to which real wood or wood-grained vinyl was fastened to continue providing the stylish "Wood look"
"Station Wagons" evolved from "Depot Hacks" and "Mountain Wagons." In 1929, Ford Introduced a Model A Station Wagon for $695 instantly becoming the world's largest producer of Station Wagons. Ford remained the "Wagon Master" throughout wood wagon production, outselling all competitors by a gigantic margin. Ford's Station Wagon bodies were built of Maple from his Iron Mountain, Michigan, acreage with trim panels of Birch, Maple or Mahogany. In 1938 Ford sold nearly 7000 Station Wagons compared to a combined total of less than 1000 for Its nearest competitors, Plymouth and Dodge. The 1948 Ford Station Wagon required some 445 board feet of timber which was cut into 167 Individual pieces. At the height of production, Ford produced about 80 Station Wagon bodies a day. The stylish Station Wagons were labor intensive to build. They not only cost more initially, but cost more to keep up and repair when damaged. On used car lots, they were frequently in the back
in "termite row" and dealers were happy to "unload" them. A huge percentage went to scrap yards very early.
1948 Ford Station Wagon Statistics
226 Cubic Inch 100 H.P. Flat head V-8 Engine (essentially the same as Ford Introduced In 1932) Seating Capacity - 8 persons with middle and rear seats easily removable for Cargo Top Speed approx. 85 mph • approx. 15 • 20 mpg • Tire size 6.50 x 16 • Weight 3520 pounds
Cost $1972.00 F.O.B. Factory (Dearborn, Michigan)
From 1946-1948 (following resumption of production after end of World War II) Ford produced over 50,000 Wooden Bodied Station Wagons (42,000 Fords and 8,250 essentially identical Mercurys)
As a teenager, I was fortunate enough to have my parents buy a brand new 1948 FORD Station Wagon Identical to this one, except Maroon In color. This is the car I drove when I turned 14. You could get a Driver's License at age 14 then I You can Imagine the Nostalgia I feel every time that I drive this car.
This Station wagon is basically completely stock and original. Except for TWO Maple Frame members and new Mahogany Inserts, ALL of the wood Is original and has been bleached up and refinished. Everything works • the electric clock, the AM radio with 5 pre-settable stations, vacuum windshield wipers and all dashboard gauges ONLY the Right Tail light and Right outside mirror are not stock and were not offered or available In 1948